Each artist worked with one of the four themes within the exhibit's title, 'Bridge Messy, Emerge Ignited' throughout their original process. All art sales support both the artist and ArtVan's mobile, therapeutic arts mission. Click on the artwork to explore the artist's process, their personal art origin stories and the role art plays in their life today. As you can imagine, no two stories are identical. We each have styles, expressions, and ideas to share!
Four Maine artists also created 30″x30″ works of art. All four themes are represented! At Frontier, their original works mirror the exhibit.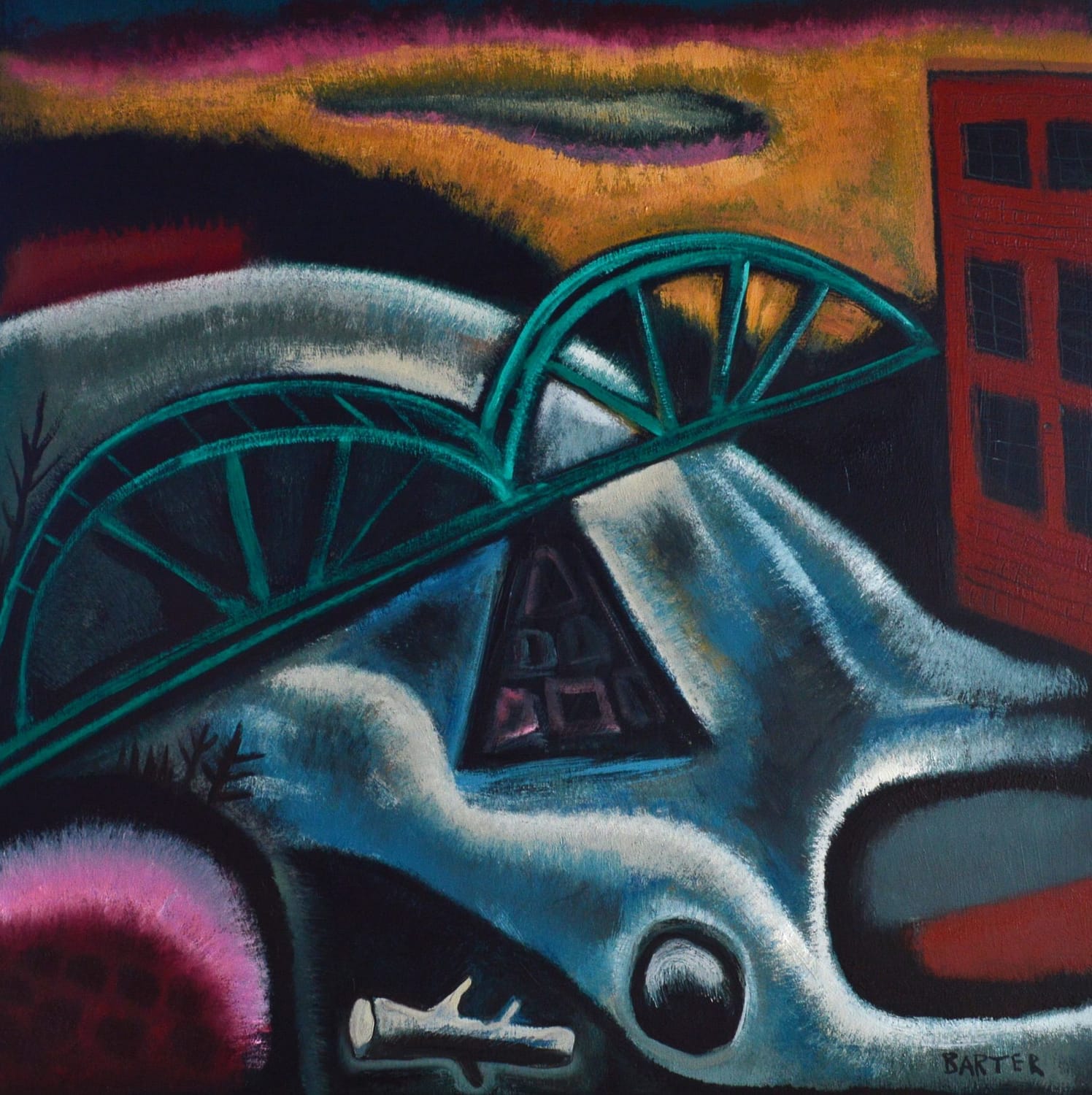 "We cross a lot of bridges in our day-to-day activities. Sometimes we don't even pay attention that we're on a bridge suspended over icy waters. The FJWB bridge that connects Brunswick and Topsham has always been one of my favorites."
Matthew Barter
Bridge / Oil on Reclaimed Wood 30x30x4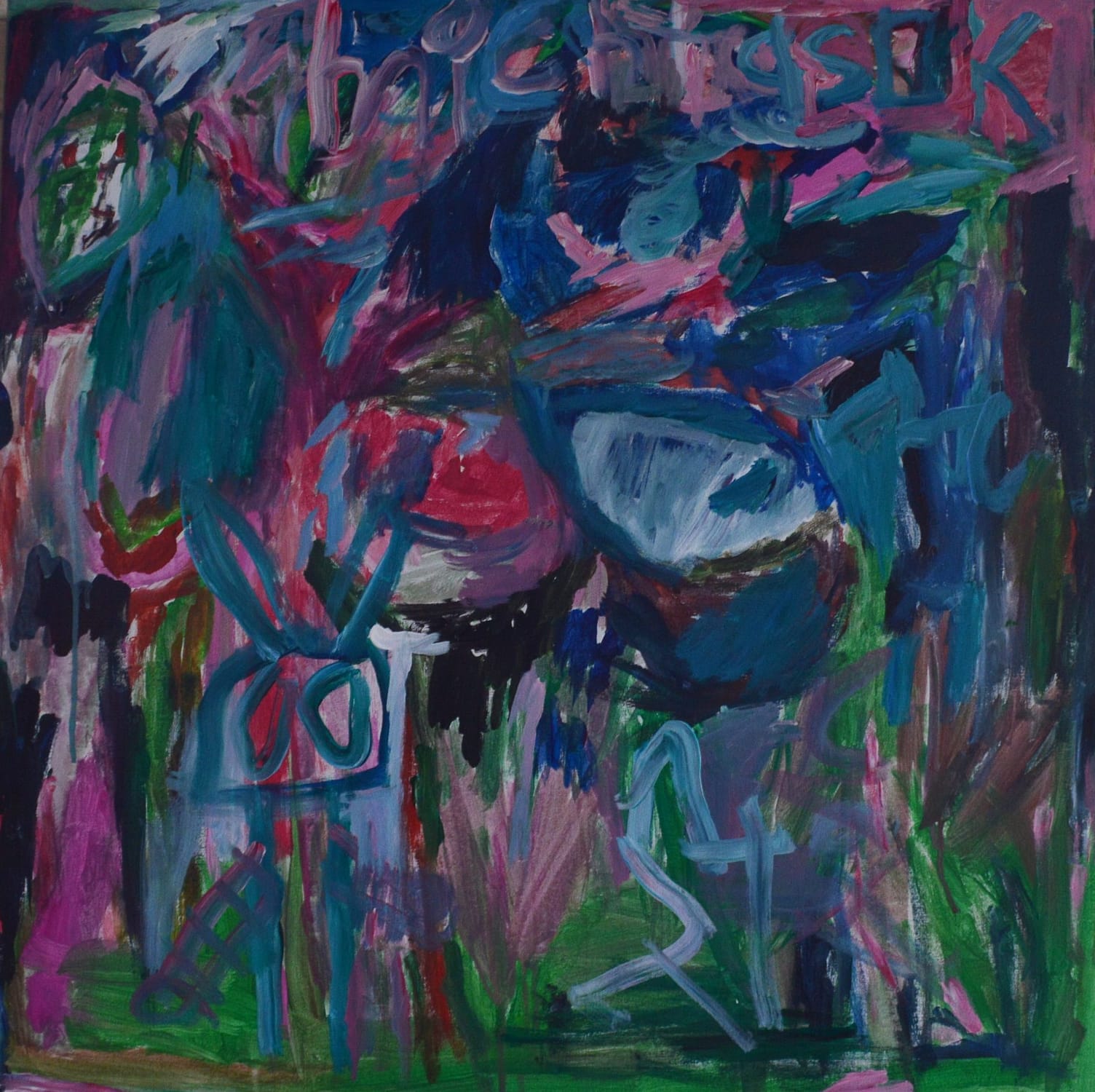 "A friend of mine was talking to me. We went outside in the forest in a real-life castle. I've been there."
Mitchell Pfeifle
Messy / Acrylic on Canvas / 30x30x1
"I loved the idea of a mess of water lilies growing beneath a pond, an entanglement that led to a beautiful bloom emerging from a swampy bottom. Was also intrigued about how it blurred the lines between submerged & emerge, & how it changed your perspective."
Nikki Pilgrim
Emerge / Unconventional Watercolor on Birch / 30x30x2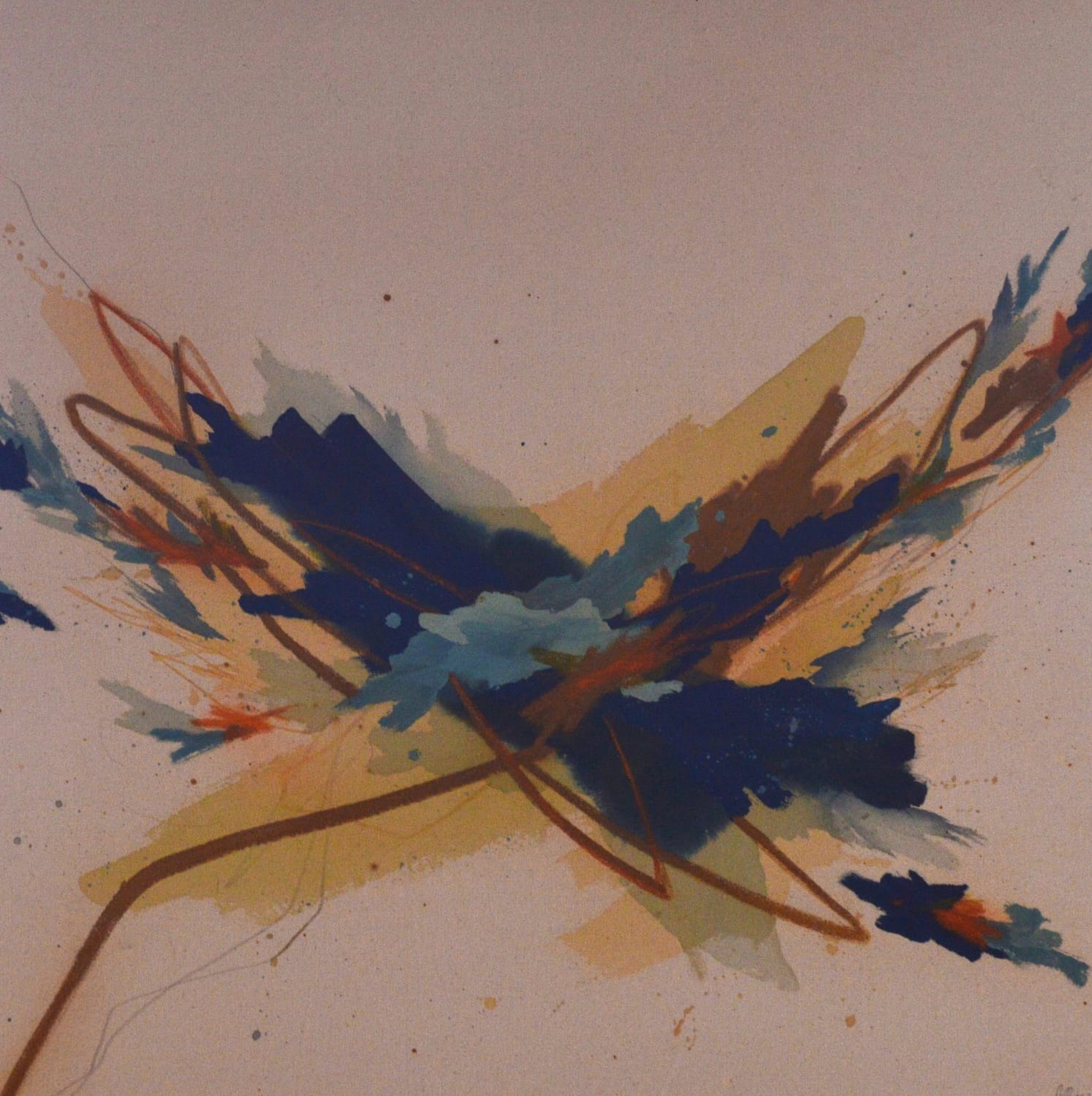 Jessica Beer
Ignited / on Canvas
How Did You Approach Your Theme?
"I kept coming back to the idea of a bridge between water and land such as a pond. This ecosystem is also a bridge of all organisms in understanding."
"I often struggle with perfection in my pieces. Things have to be just right, or I do not finish them. In this piece, I let the felt fall where it wanted and created around it. No questions, No plans. It was oddly freeing.
"I drew inspiration from the COVID-19 pandemic. I wanted to create a piece of work that represents our communities emerging from the pandemic and coming together as one, cohesive symbol."
"When I feel ignited, it is typically because of something that has triggered a strong emotion within me. Sometimes that emotion is anger, sometimes it's love, and it can be anything in-between - but it's filled with fire."
"I think a lot about how since becoming a mother, managing the mess of small people is part of my every day in a way I didn't understand pre-parenthood. It not only is physically messy, but very often mentally and emotionally messy as well, in challenging and hilarious ways."
"Because my medium is plant, moss and other organic materials, my primary muse is Mother Nature. Whether it be a walk in the woods, or the golden light of dawn, it's true that observing the natural world ignites my creativity and restores my sense of being."
"I am drawing inspiration from artwork I have done in the past. How the different pieces work together when put into one work of art."
"Pausing in the hectic life of 2022 and looking up at the night sky allows one to view countless ignited stars in the vast Maine sky. Who knows what surrounds those stars and what surrounds a campfire? Other than infinite possibilities."
How Were You First Introduced to Art?
"I grew up in a very creative, colorful home where we were always encouraged to look for ways to surround ourselves and others with beauty."
"Art was always around, and the walls of my homes growing up were covered in art. I always liked dabbling in different media, but it was in my twenties that I first tried my hand at papercutting, inspired by a couple artists I admired."
"I was lucky to have an amazing art teacher in high school that inspired and encouraged me to pursue art."
"My parents were not artists, so there wasn't art in my home, but I can't remember a time when I wasn't doodling or drawing. Crayons were the best gift I could have been given as a kid."
What Role Does Art Play in Your Life?
"Creating art gives me the ability to funnel my need to create into something tangible. Ideas percolate into my consciousness and I find myself scouring the landscape for materials to knit together into a manifestation of my vision."
"Art is an urge. I do it because it makes my brain feel happy, because if ever there's a pen in my hand it goes off on its own, and while that's been pretty tough the last couple years, I like to think it's helped to get me to this point."
"My work as a stonemason allows me to be creative almost every day. When I go too long without creating something with my hands, I feel off. When I'm doing my best work, whether it's building a stone wall or a mosaic, I feel most like myself."
"Painting has helped me to process emotion, expand on ideas, and connect with loved ones and strangers over the past year."
Thank You to Our Exhibit Supporters!
With incredible support from organizations like Maine Arts Commission & the Onion Foundation who believe firmly in Maine Artists, we're able to bring together a multitude of artists harnessing a variety of mediums and perspectives. These opportunities are possible because of friends & neighbors who share, connect, and believe in the healing power of the arts.
"The Commission works to expand the state's cultural resources and encourages and assists freedom of artistic expression for the well-being of the arts." One of MAC's guiding principles is to "Act locally, because it is at the local level that access and impact are most readily achieved and sustained."
Onion's mission is "to encourage conservation and stewardship of the natural environment and to promote music and the arts in the state of Maine." A handful of their values include supporting organizations that reach rural and underserved populations statewide, partner with local leaders to build existing programs, collaborations, diverse perspectives, and to foster trust and increase accessibility.
Leslie Beattie, owner of The Mix, continues to be an ArtVan champion through hosting a drop-off location for approved donations! Since ArtVan is mobile, partnering with Leslie helps us make the most of our time each week. Not only can you find supplies and inspiration for all art mediums at The Mix, but also Wilbur's x ArtVan Chocolate Bars. 
"Gil's passion for connecting people with experiences that provoke a sense of discovery led to the creation of a special kind of meeting place reminiscent of a traveler's crossroads – where stories, ideas and culture interact in a rich and dynamic environment."
The crew at Frontier has been working hard to bring ArtVan's dream of 100 artists to life!